Hi everyone!
It's Henrik again. This time with an exclusive look at a new Base-0 building!
That's right, there's a sexy new building to be added to the range, soon. 
The new building is a special one: it doesn't come at ground level (well, at least not in the prototype Primoz sent me – he might still edit that), but is supported by a set of beams to be at first floor level. It comes with appropriately sized ladders to make it accessible, but of course it's more fun to connect it to one of the walkways!
I'm going to show the building off in subsequent construction steps.
Writing this blogpost actually led to some insights, which I'd like to share with you! You see, normally, I construct a building kit in bare MDF. Then I treat it with wood glue to seal it (doesn't work as perfectly as I'd like, but it does help against the MDF soaking up all your precious primer). Then I take the spraypaint to it.
So, I thought I'd be smart this time: I sealed and primed everything while still on the sprue. Like the pros do, right? Like this:
Bad idea!
Due to the MDF soaking up some of the PVA glue and paint, it got a little thicker and as such became harder to dislodge from its frame. Next time, I'll do it the old fashioned way and construct the building, first (and I should add that pressing the MDF parts from the frame is normally very easy).
You'll notice I did remove the walls from the frame and sprayed them white separately. No problems there. 😉
Time to press everything from its frame!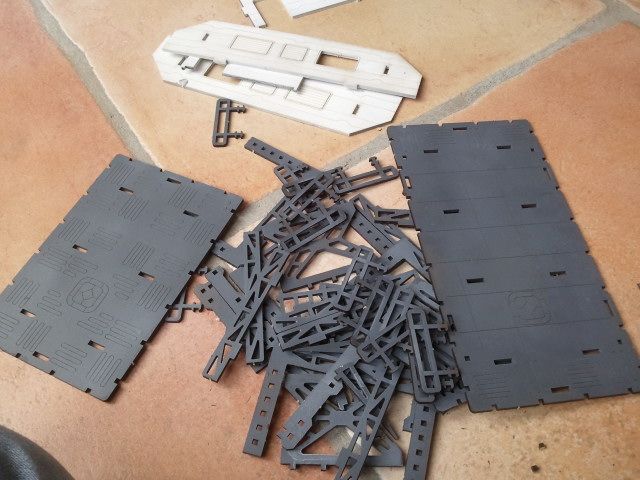 After that, I gathered the parts for the support platform that will support the building walls. You could actually leave it like this and have a cool platform-thingie to get shot on. 😉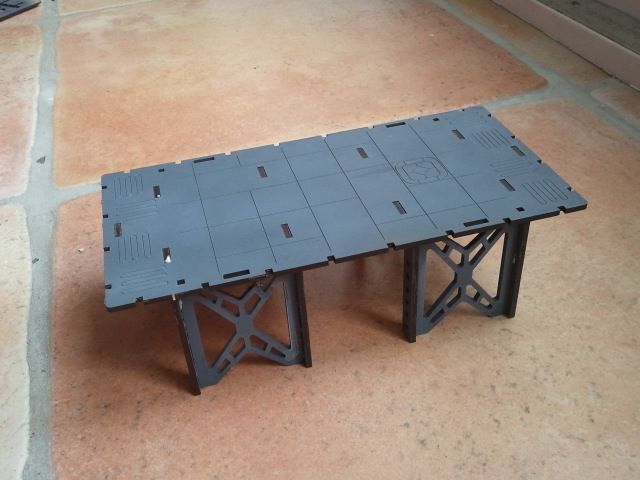 Even though I sprayed everything in advance, I'll still have to touch up all the edges… Hmm, really not going to do it again like this!
Right, now for the walls. and the roof. The roof is easy to take off, as usual.
All done!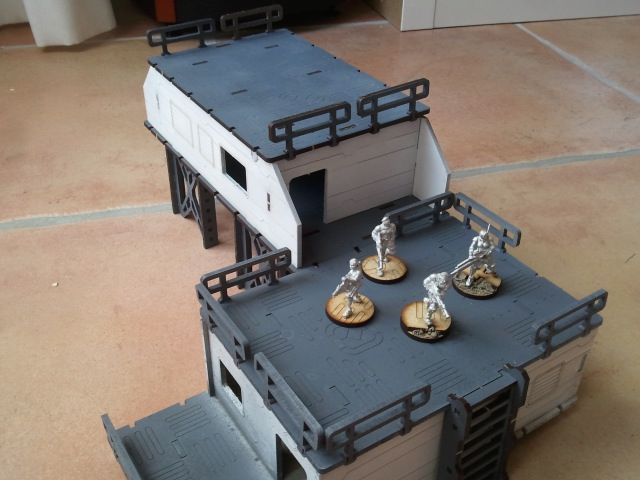 Combined with one of the habitats and occupied by… Fusiliers! On custom Systema bases! Yes, you can bug Primoz for those.
And with the complimentary antenna, proudly displayed on my gaming table:
So, what do you guys think? Cool building? Would like one? Leave your comments!